Manage your books easily with inqonto
Start online invoicing and accounting and discover the ease of getting organised with inqonto. If you are still using Excel or Word to keep track of your business finances, or expensive and arduous accounting software? Then inqonto can work for you: your business finances simplified. Inqonto offers you easy online invoicing and smart accounting. Complete management of your invoices, clients, projects, proposals, VAT, hours, expenses and more.
Try it free for 30 days
Check out all the features below and start your free 30 day trial today
Professional online invoices
Create and send your invoices in a breeze. Upload your logo. Add client and product details or select them from you client list and items list.
Creating and sending invoices with inqonto offers many features:
- Send online or print invoices instantly
- Smart invoice numbering
- Unlimited invoices*
- VAT specification on each invoice
- Unlimited clients and projects
- Recurring invoicing for subscriptions
- Attach files to send with your invoices
- Easy and automated reminders for late payments
- Add text to your invoice
- Bill hours directly from your timesheets
- Clear overview of all sent, paid and unpaid invoices
- Send credit notes

* inqonto - free is limited to 15 invoices/yr.
Manage your invoices
Get a clear overview of all your invoices. Change the invoice status to paid if you receive a payment.
Send a reminder with just a click. Easy copy, export and archive your invoices.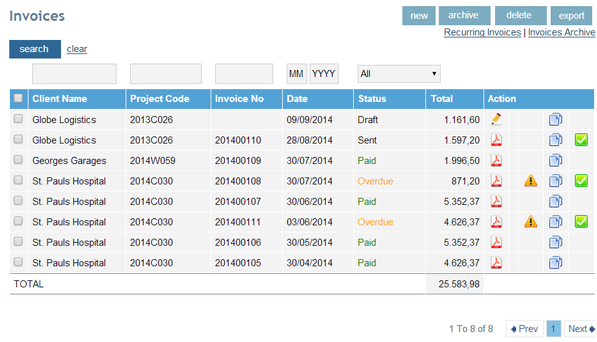 Online Time Tracking
Track all your hours on clients and projects with inqonto. Add your billable and non-billable tasks to gain complete insight in all hours spend.
You can create an invoice directly from your timesheets for all the hours spend on a client or project. Select client, time range and project, and inqonto will do all the heavy lifting to create your invoice for unbilled hours. Choose how to specify your hours on the invoice: group hours on day, week or month, by task, team member or project. This feature is a real time saver!
Inqonto is perfect for teams: the inqonto team plan offers multi-user time tracking and time management for teams. Team members can submit their timesheets for approval by their manager. The manager can approve timesheets online and set the status accordingly.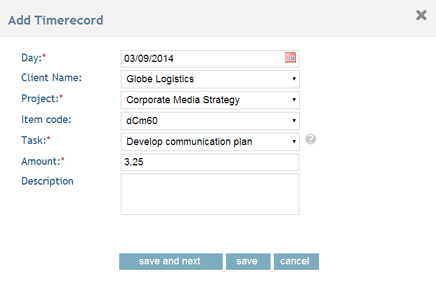 convert time sheets to invoices and time management for teams!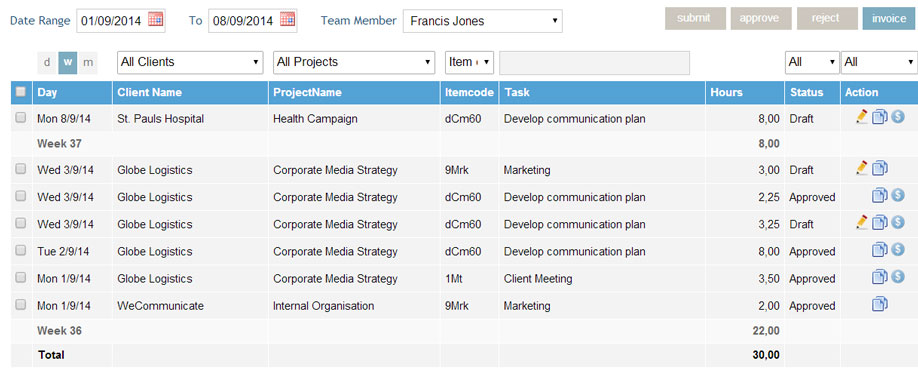 Keep track of all your expenses
Keep track of all your expenses on pre defined cost categories. Assign expenses to projects and suppliers and keep track of how you've paid for all expenses.
All your mileage expenses for business travel can be tracked in the travel log in inqonto.
If you've invested in equipment, tools or machines for your company you can deduct depreciation costs of assets from your profit. Inqonto offers the asset module to keep track of all your investments and automatically calculates yearly depreciation costs for each asset. This feature can save you tax money big time!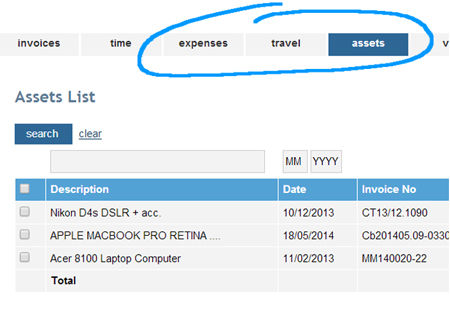 inqonto - easy online invoicing and accounting
Manage clients, projects and suppliers
You can add unlimited clients and projects to your account in inqonto. This simplifies creating an invoice even further: just select a client and project and all data is displayed on your invoice or timesheet.
For easy expense tracking you can add a list of all your suppliers. Add their contact details to have them online and available everywhere for your next order.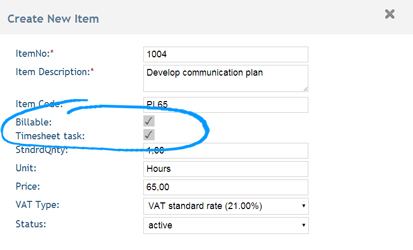 List all your services, products and tasks
Add all your activities and products as items in inqonto. Listing all your billable tasks and services for clients and non-billable activities for marketing, education, etc. will help you create timesheet entries and invoices even faster. This also works perfectly on all items charged by fixed price or by piece.
Add rates, prices and vat rates for each item in inqonto. Charging the same item at different rates in different projects? No problem, use the convenient item code to select the right rate for each client or project.
Creating invoices becomes fun!
Inqonto for teams
The inqonto team plan offers user management and access rights. Set individual access rights to each module for all users individually. Team members can access their individual time sheets, track expenses and mileage; you send the invoices.
Send your proposals online
Create your project proposals online. The template in the proposal module offers you a great start for creating a professional proposal.
Snapshot view of all your key financial data and agenda
The dashboard gives you an daily overview of your business. Instant insight in all unpaid invoices, expenses, hours and upcoming events.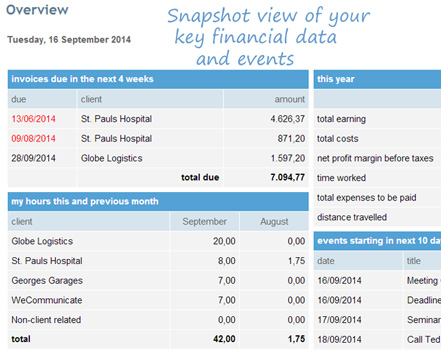 Keep up to date on planning, events, meetings and appointments with your online calendar.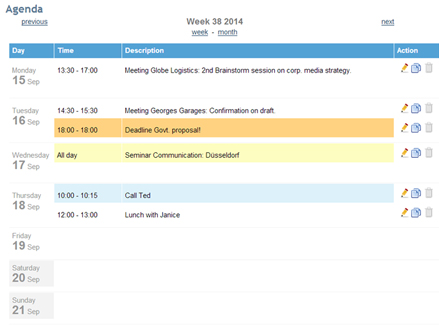 Efficient accounting with inqonto!
See whats going on in your business at a glance
VAT reporting in a breeze
Creating a VAT report becomes a piece of cake managing your online invoices and accounting in inqonto. Select time range (month, quarter or year) and inqonto will present all the numbers you need for your VAT report.
Know how your business is doing
Up to date insight in revenues and costs? You can check your financial situation any time by viewing the results based on all invoices, expenses and costs. This way you know if you're on the right track and if your business is making enough profit.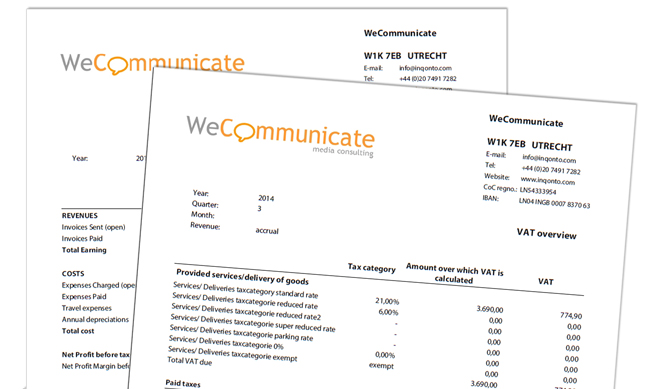 Flexible
You can export all your data in inqonto any time. Data are exported to a .csv file for viewing in excel. Build reports anyway you like or share data with your accountant.
inqonto basic
inqonto basic offers you the essentials: managing your invoices, time sheets, clients, projects, products and services.
Send reminders, save draft invoices, set recurring invoices and send your invoices through e-mail and print them.
You can keep track of your hours on clients and projects in the online time sheet. Convert time sheets to invoices in a breeze. Unlimited clients, projects and items to create invoices even faster.
inqonto plus
inqonto plus offers you full control: All features of inqonto basic are included. Additionally inqonto plus includes expense tracking, assets and depreciation costs, a travel log for your business mileage, send attachments with your invoices, list suppliers and create and send online proposals.
Inqonto plus also includes automated VAT reporting and up to date reporting on yearly revenues and costs. You can add one additional user and keep track of planning and events with the online calendar.
inqonto team
inqonto team is your option if your company has been growing or if you work in teams. Inqonto team lets you create additional user accounts for your team members so they can keep track of hours, expenses and travels.
You get all the options of inqonto plus and an additional option for time management: team members can submit their time sheets and the manager can approve all time entries. inqonto team starts with 5 user accounts and can be extended to 10, 20 or more users.
inqonto free
inqonto free offers you free online invoicing. If you occasionally need to send an invoice to your clients this is your choice.
You can send up to 15 invoices per year with your own logo; for free! Create your free account and get started right away. Your invoice will be send as pdf to your clients e-mail address and you'll receive a copy in your mailbox.
If you decide later you want to use more features you can upgrade to one of the other plans anytime.